RUNNERS Update and Stickers!
on
September 4, 2020
at
3:32 pm
Hey everybody! It's been a little while, so I wanted to do a little update on all things RUNNERS. First off, progress on Volume 3 continues! It's taken quite a bit longer than I expected, but I'm still working on it most of my working hours, and I'm really happy with how it's turning out. My colorist, Cyril Vincent, is finishing up the last few pages of Chapter 1. As he gets pages to me, I do a pass on the colors to make minor tweaks here and there and then do the lettering. While that's been happening, I've also been working on pages for Chapter 2, and as of now, most of that issue's 24 pages have been fully penciled and inked. Here are some preview panels from the colored Chapter 1…
In preparation for the start of Vol 3 pages posting here on RunnersUniverse, I'm also in the process of reviewing this website to make some updates and changes. I'd like to make some improvements to navigation and functionality as well as including things like a cast breakdown and series info for new readers.
Once Vol 3 starts posting, I will also want to make more of a push for my Patreon account, which will be vital as the primary source of income for the series between Kickstarter campaigns. I'll be posting lots of bonus content there, like higher-res finished pages, as well as pages in their penciled and inked stages. I'm also working on some sticker designs to mail out as physical rewards (for U.S. backers). The stickers will also be available in my store and at shows, whenever those happen again. Below are the rough mockups I'm toying with. These mockups use re-purposed art, but the final stickers will have all new art, including more action-y poses on the sticker sheet.
I've also been doing some toned-paper commission rewards for Patreon backers. I just figured it'd be a nice way to thank the backers who have hung in there up to now while things are still in the "ramping up" phase.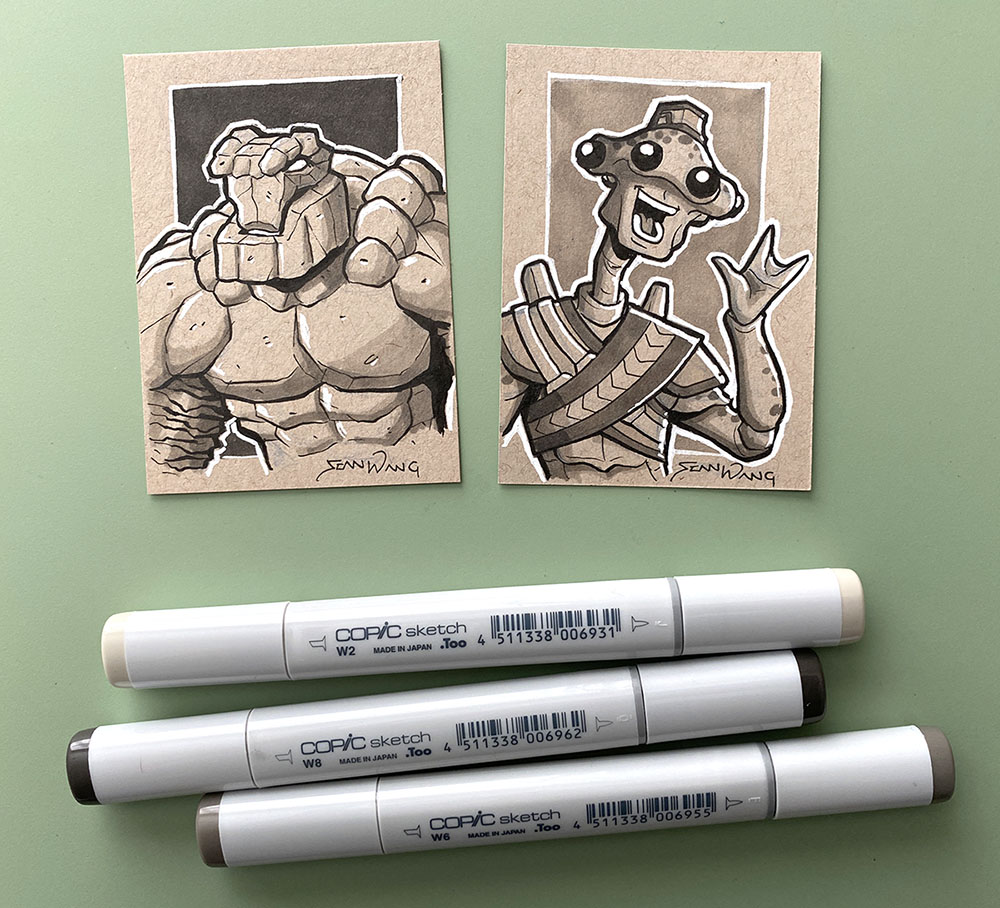 And as always, I do still have to do occasional freelance illustration work on the side to bring in income. I do feel lucky in that the freelance work is all very fun work, and I enjoy it a lot, but the downside is that it just pulls me away from RUNNERS work for a couple days or a week at a time. But RUNNERS is still the top long-term priority, and everything I do is still leading towards Volume 3 posting here, and many more volumes after that!
Thanks for hanging in there. It'll be worth the wait!!