Vol 3 Chapter 1 Pages Inked and General Update!
on
March 24, 2020
at
10:15 am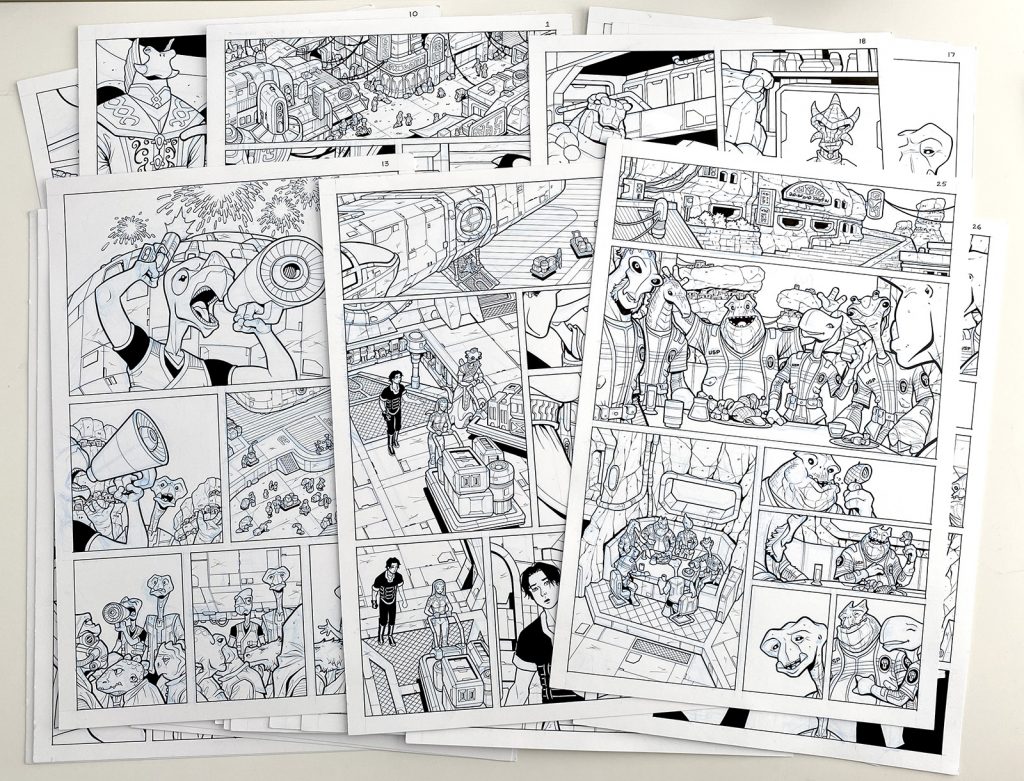 A slightly overdue update: as of a few weeks ago, I finished inking all of Volume 3, Chapter 1! It is an extra long 34 pages, not the usual 24 pages, and I'm happy to report that I think they came out really well! The first batch is currently with my colorist, so I'm anxious to see how that step goes. Hopefully everything will go smoothly and I can start getting pages finalized for upload here on RunnersUniverse.
I would have done this post a couple weeks ago, but for obvious reasons, I got a bit distracted. These are certainly scary times with Covid-19 running amok. I hope everyone out there is staying safe and taking all proper precautions so we can collectively end this as soon as possible. I need to get back to my regular routine of… working from home in relative isolation from the outside world. Ha ha.
If you are cooped up and in need of distraction, now might be a good time to re-read RUNNERS in anticipation of Vol 3 coming. Now, there are even more ways to experience the series:
Webtoon Canvas: http://bit.ly/runnerswebtoon. Read the series for FREE with Webtoon's unique vertical scrolling format. I have completely reformatted the series into vertical strips for the site, and I actually think it works really well (better than print even) for dramatic and comedic beats. Give it a try and please be sure to Like each individual episode and Subscribe to the series! Those numbers help.
comiXology: http://bit.ly/runnerscomixology. RUNNERS is now part of the Unlimited program, so if you have a subscription, you can now read the series for FREE. Outside of Unlimited, you can buy each digital graphic novel separately. And I also have a 2-chapter FREE PREVIEW issue on the site, so be sure to let your friends know they can check out the beginning of the series that way at no cost!
Comic stores / Amazon / RunnersUniverse store: I wish I could encourage people to still buy physical copies of the books, but right now, it seems either moot or better to err on the side of caution. With Coronavirus concerns closing stores and keeping people at home, I'm not sure how I feel about making trips to the post office to mail packages. So I hope the digital options will suffice for now.
For all options, please be sure to like the pages and posts, subscribe (if the option is available), leave reviews and ratings, and leave comments. I'd love to get RUNNERS on the public radar a bit more, so every algorithm bump from reader engagement will be a great help.
I'll also be (very belatedly) looking into webcomic sites like TopWebComics, etc, to try to expand the readership as I go forward. If anyone has recommendations for sites, or other general ideas to help promote the series, please feel free to chime in!