BONUS CONTENT: Sketchbook: Ril
on
June 10, 2010
at
12:01 am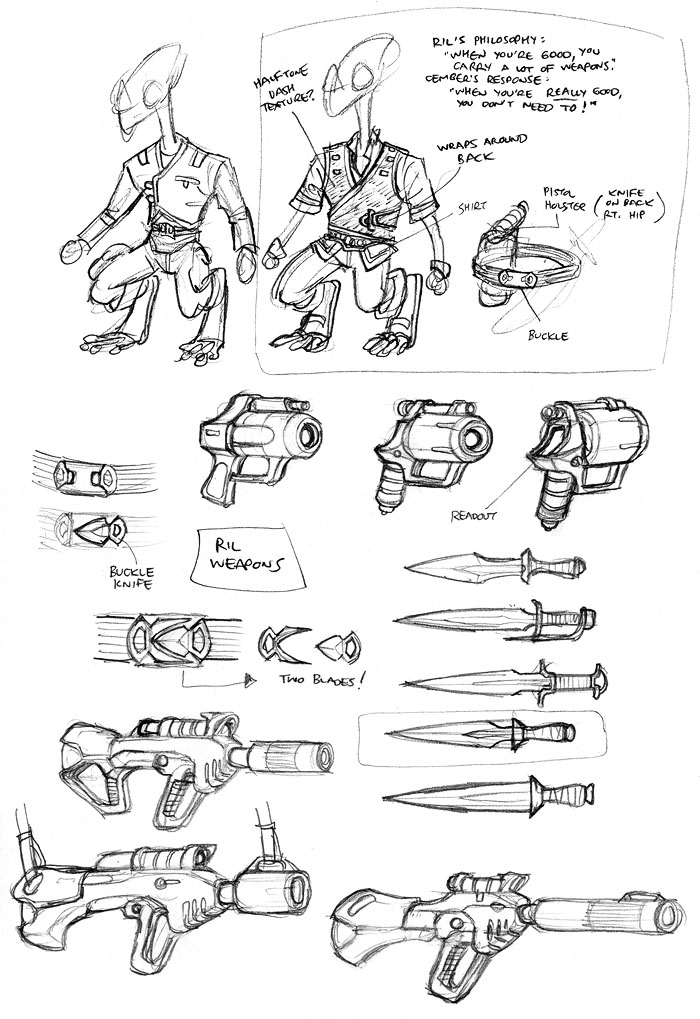 I designed Ril's port outfit to have some slight stylistic similarities to his Bad Goods outfit. In this case, I like that the top has a crossover flap that wraps all the way around the back and clasps onto the front again on the opposite side. It just seemed like a cool look that was a bit different from the norm. Probably not the most practical thing in the world, but then fashion rarely is, I guess.
With Ril's gun, I like that it's a bit odd in proportion, with its oversized, thick stubby barrel. I'm not a huge fan of trying to make every weapon look "badass," so I intentionally try to keep some weapons non-flashy. I was pretty happy with all three rifle sketches, but I ultimately settled on the bottom left one, again because it had the most unusual proportions of the three.
I haven't decided yet if the pistol on this page is Ril's signature gun or if it's just one of many different handguns he'll carry on different jobs. I imagine him to be a bit of a gun collector, so it would make sense for him to use a wide variety of weapons over the course of the series. I guess we'll just see how lazy I am during the design phase of the upcoming arcs…
Additional commentary about the outfits can be found in the posting for The Big Snow Job #1, Page 14.