BONUS CONTENT: Sketchbook: Cember, Sky
on
June 3, 2010
at
12:01 am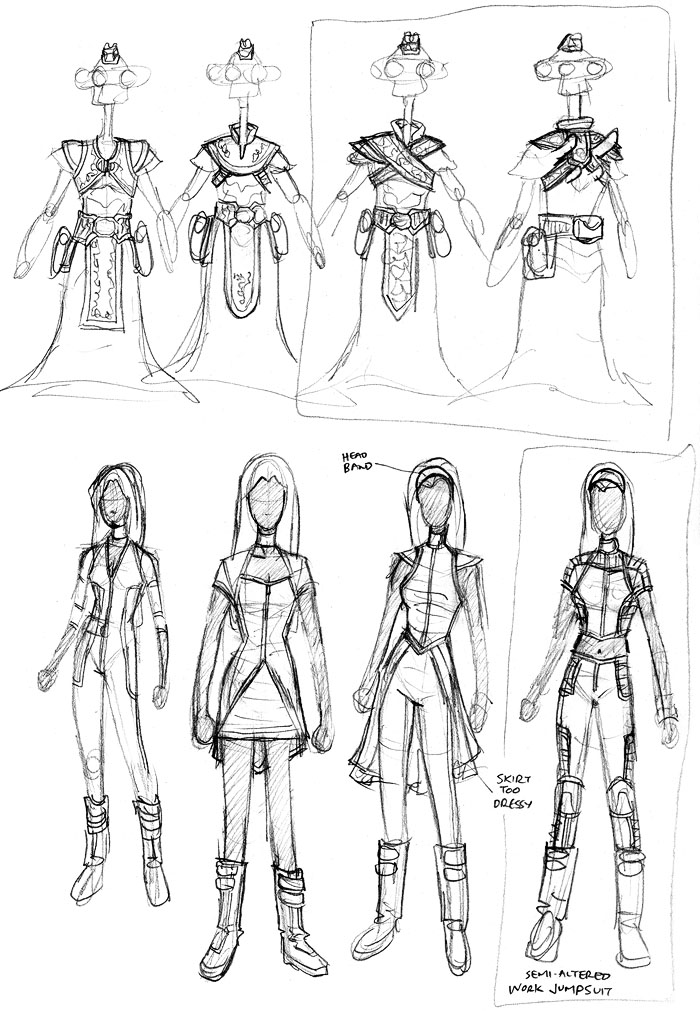 Here are the sketches I did for the Cember and Sky Arqq-Olem outfits. For Cember, I kept going with variations of his established look of split, 2-piece tops and skirts. This time around, I added some pattern embellishments to his outfits. While I like the solid blue outfit he wore in Bad Goods, the little bits of patterning just add that extra bit of flash that suits his character. So I'll probably do more of that going forward.
For Sky, the first few sketches here were a bit too dull, "girly," or fancy. I do kinda like the back skirt of #3 though, so maybe that outfit (or some variation of it) will show up in the future. But for the most part, I really like the banded jumpsuit that I ultimately settled on. It's a fun outfit to draw, what with all the piping, so I'm pretty sure it'll be showing up again on a semi-regular basis. I really like the headband as well. Not sure where that came from, but it definitely adds a youthful, cute look to her. That'll probably stick around too.
Additional commentary about the outfits can be found in the posting for The Big Snow Job #1, Page 14.