BONUS CONTENT: Sketchbook: Roka, Bocce
on
May 27, 2010
at
12:01 am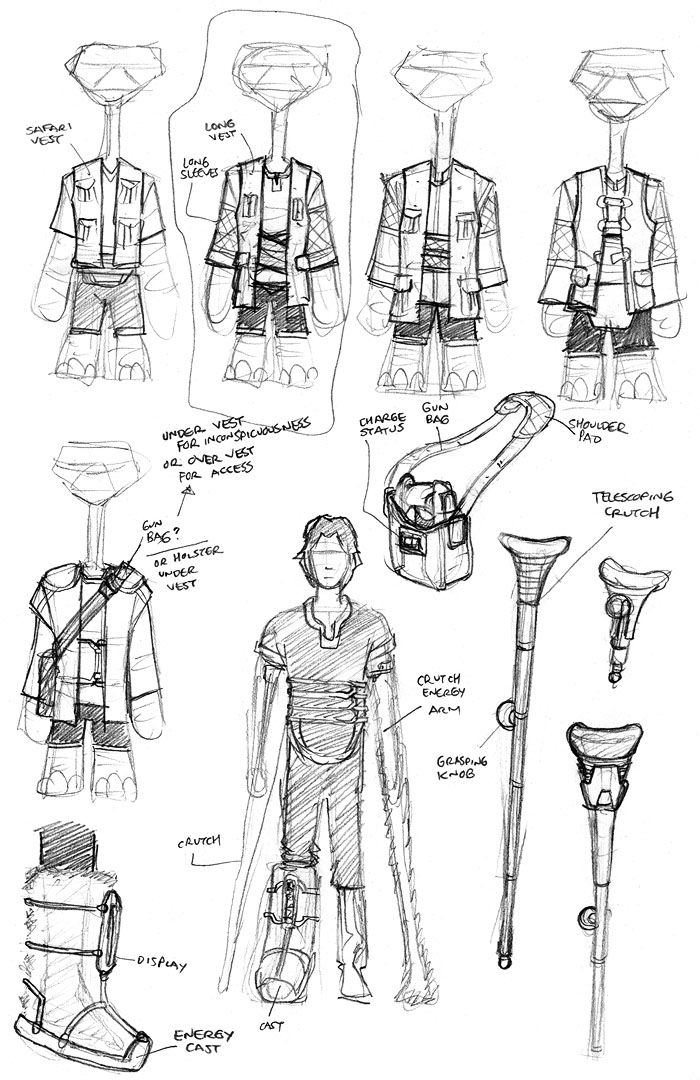 So here we have the costume designs I did for Roka as he appears on The Big Snow Job #1, Page 4 at the Arqq-Olem port. Basically, I just wanted to continue the long sleeve shirt and vest look that was established in the first story arc, since that seems to be his signature style.
Roka's gun satchel was something I thought up for the first arc, although I never ended up drawing it. So I figured the opening port scene in Snow Job would be a good place to introduce it. I like that it's something he can easily put on when he needs to be armed, but he can just as easily take it off if he's on the ship and doesn't need it. Since it's the biggest gun of the entire crew, it would probably be a bit clunkier to sit around in than, say, Cember's pistols.
Bocce's outfit is the same from Bad Goods, but I needed to concept his energy cast and crutch, not that you end up seeing the crutch all that much in the actual story. I wanted to keep the crutch fairly simple and not over-design it. So it's basically just a cool sci-fi crutch that can telescope to varying lengths or retract completely into a more compact shape.
Additional commentary about the outfits can be found in the posting for The Big Snow Job #1, Page 14.