on
March 5, 2021
at
12:41 pm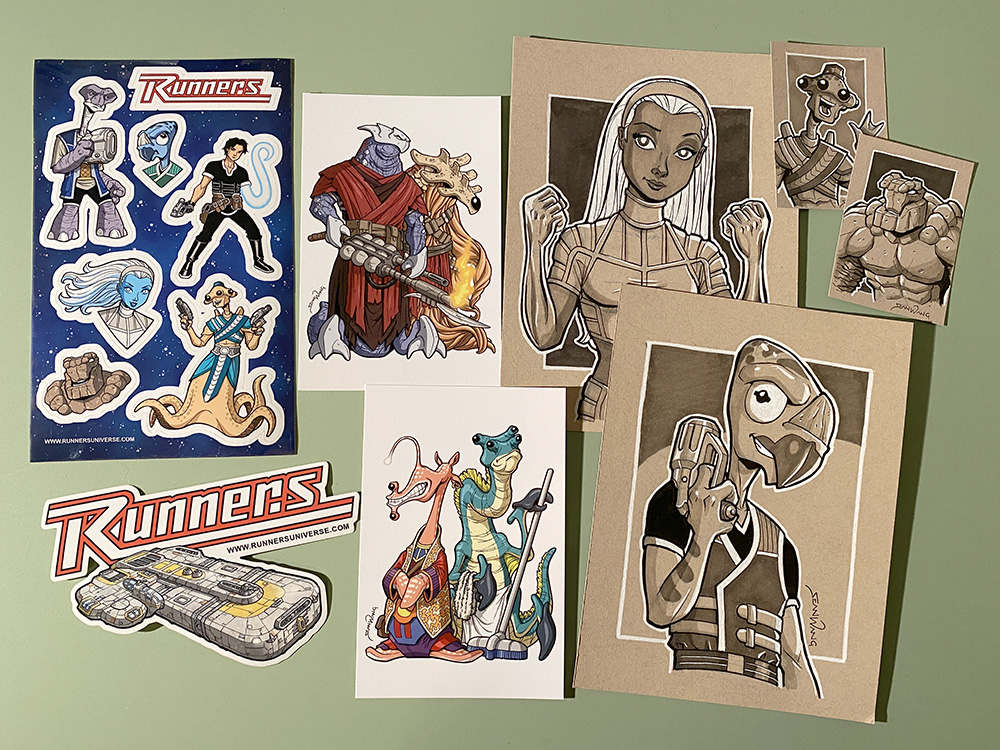 Sorry for the radio silence here, but between Patreon, Instagram, and the Runners Facebook Fan Page, I sometime forget to also post here. Argh. But that will change once the new series actually starts posting here! Anyway, onto news…
I now have some new RUNNERS goodies in the form of stickers and bonus character cards. The die-cut ship/logo sticker and the character sticker sheet will be available at conventions (once I start doing them again) and will be added to my store as well. They will also be FREE for Patreon backers based on reward tier.
I also did 2 new character cards for aliens that didn't make it into the respective Vol 1 and Vol 2 card sets originally. These will be Patreon exclusives and FREE for all U.S. backers.
The image above also shows some toned-paper commissions I did last Fall as surprise Patreon rewards. These are really fun and I may consider adding commissions to my online store at some point.
Volume 3 update!!
I am now done with Chapter 2 of Volume 3! Woot! I originally wanted to start posting once I had Chapter 1 completely done. But I still had some kinks in the production process that needed ironing out before I felt comfortable with the amount of buffer to avoid running out of material as I worked on new pages. With two full chapters done, and those kinks worked out, I am now pretty confident in being able to finally start posting.
The next step will be to start uploading all the finished pages to date (Chapter 1 and 2) to RunnersUniverse, along with the usual page-by-page commentary. I'll also be formatting the pages for Webtoon and prepping all the upcoming content for Patreon, including penciled and inked pages, as well as sketchbook pages with design commentary.
As of now, I am hoping to actually launch in EARLY APRIL!!! Stay tuned!